Welcome to our blog post on Mortgages for NHS staff. Naturally, you will have questions and concerns if you are looking to get onto the property ladder and purchase a property. Taking your first steps is an exciting time, but it can be equally as confusing. 
People throw around jargon that makes the process extremely confusing, so we have created this Mortgages for NHS Staff Guide to provide you with all the information you need as a first-time buyer.
What is a Mortgage
Typically, anyone that is buying their only and/or main residence is generally classified as a first-time buyer, and to purchase a property, and you will need a mortgage. A mortgage is a loan taken out to purchase a property through a bank or building society, and most mortgages run for 25 years; however, this timeframe can be shorter.
When taking out a mortgage, you will need to make a deposit. The more deposit you provide, the less you will need to borrow (through the mortgage).
A mortgage is considered a secured loan, meaning the value of the loan is your home. In simple terms, the mortgage lender can repossess (take back) your home should you be unable to make your monthly payments.
How Much Deposit Do You Need to Purchase a Home?
As previously mentioned, when purchasing a home, you must provide a deposit. Generally speaking, you need to try and save at least 5% of the cost of the property you'd like to purchase.
For instance, if a property costs £150,000, then you will need to save around £7,500 (5%) for the deposit. The more deposit you can provide, the less money you will need to borrow from your mortgage lender.
Find Out How Much You Can Borrow
The amount you can borrow will determine various things in your property purchasing journey. For instance, the size of your deposit, the amount you can borrow, your income, and your credit score will all play a role. If you are buying a property with someone else, then the lender will take into account their finances as well as yours.
It's worth remembering to budget for additional costs when buying a property, such as conveyancing, surveys, and, depending on the cost of the property you are looking to buy or as a first-time buyer, stamp duty.
View Properties in Person
If you can visit a property you're interested in person, do it. Naturally, you will spend loads of time browsing properties on the internet, but visiting them in person can help you make a decision. You will get a deeper understanding of the potential (or lack of it), and you will be able to gauge that "feeling".
Research Your Destined Area
It's essential to research the towns and neighbourhoods you are looking to live in before purchasing a property. Ideally, if you can book a hotel in that area, spend the day visiting shops, restaurants, and the general atmosphere would be great. Ensure it lives up to your expectations.
Here is a list of things to take into consideration when searching for a property to purchase;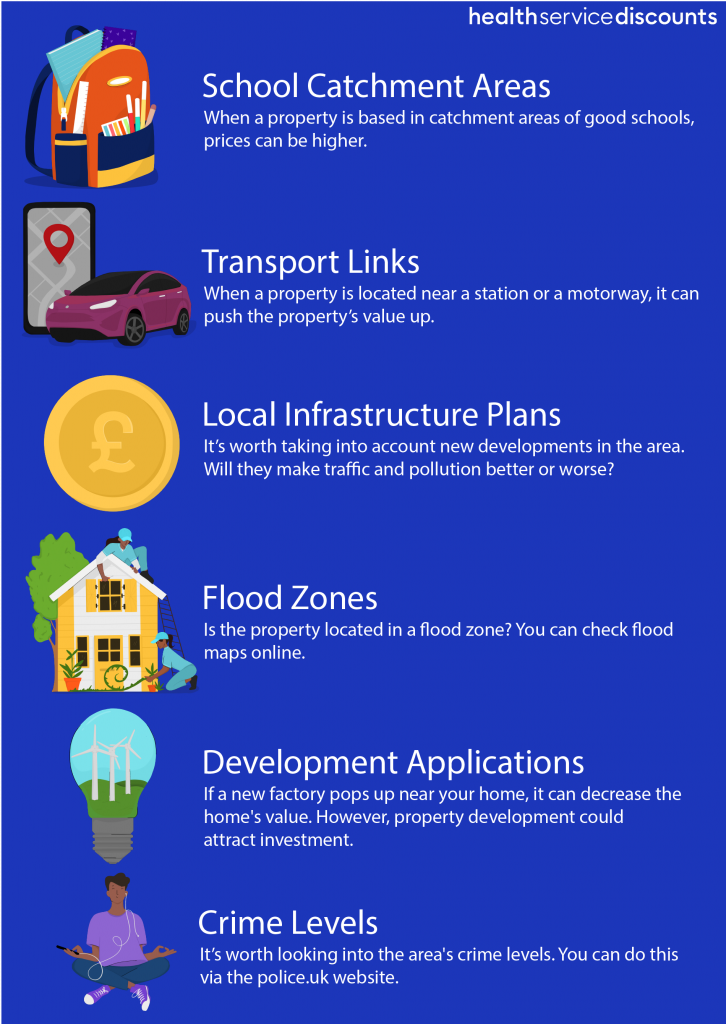 Make Sure You Can Afford Your Monthly Repayments
As a first-time buyer, one of the most important things to keep in mind is repayments. When searching for a property, it's important to determine whether you can really afford to take this step.
Ideally, it's a great idea to look into budgeting before you start looking for a property. Think about what you can afford, everyday costs, and everything in between. If you need advice on budgeting, check out our blog post on How Budgeting Works and How to Get Started.
Make An Offer
When the time comes, and you wish to make an offer, deciding exactly how much to offer can be tricky. In most cases, it's pretty common to place an offer below the asking price, but that depends on other factors, such as how hot the market is, how much interest there is in the property, and much more.
Ideally, it's worth looking at other properties in the area to understand how much the property area is worth. Take a look at other house prices. Once you come to a decision, you can call the estate agent to put in an offer, but ideally, you want to put it in writing also.
Get a House Survey
When purchasing a property, you will need to access its structural condition. A Charted Surveyor will be able to evaluate the property and determine if any issues need addressing. The survey could be used to help negotiate the purchase price (if there are issues).
Loan to Value
When you start to look at the property and get on the property ladder, you might hear people discuss "Loan to Value" or LTV. In basic terms, the amount of money you borrow to buy your home (the loan) is compared with the mortgage lender's property calculation.
So, for instance, if you purchase a property for £200,000, then you will need to put down a deposit of £20,000 a deposit and have a mortgage of £180,000–in total, this adds up to the value of the property. The lower the LTV, the lower the interest rate is likely to be.
On average, the cheapest rates are typically available to those that provide a 40% deposit.
Is there support for first-time buyers?
As a first-time buyer, it's worth noting that there are schemes available to support you–especially if you only have a small deposit. Here is a list of schemes available that can support you;
More Blogs
Thank you for taking the time to read our blog on mortgages for NHS staff, we hope you have found it of use. If you'd like to check out more of our blogs, please click the links below and check them out.