Sadly, Buckingham Palace has announced that Queen Elizabeth II has passed away at age 96 after reigning for 70 years. Her family gathered around her at her Scottish estate earlier this week after news broke of her growing health concerns. Following her tragic passing, the nation will enter a period of mourning.
The Queen first sat on the throne in 1952, and over her impressive reign, she witnessed enormous social change. Throughout the rapidly changing world, Queen Elizabeth II became a constant point which we leant on for support and morale.
Tragically, her passing leaves the nation mourning its longest-serving monarch, but, it also allows us to reflect on the profound impact Her Majesty had. Let's take a look at her exceptional reign and her support of key workers.
The Queen's Reign
Crowned on June 2, 1952 at age 25, Queen Elizabeth II's mark on the world is like no other, as she has seen 15 prime ministers, starting with Winston Churchill to more recently with Liz Truss. Throughout her reign, Queen Elizabeth II was characterised by her profound sense of duty and determination to her crown and her people.
The Queen first sat on the throne in 1952 and was head of state of the UK and 14 other countries, including Jamaica, Canada, and Australia. Born a princess, she only became heir to the throne following her uncle's abdication in 1936, and she has been a constant point throughout turbulent times for many. Following her passing, the Crown passes immediately to her son and heir, Charles, who is now King.
The Queen's lifelong support of the NHS
Throughout her monumental life and reign, Queen Elizabeth II was very celebratory and supportive of our beloved NHS. In a 2021 ceremony at Windsor Castle, all four National Health Services of the UK were awarded the George Cross by her Majesty the Queen for their outstanding efforts.
The award recognised more than 74 years of remarkable service, supporting the health and welfare of the nation. This is only the second time during Her Majesty the Queen's extraordinary 70-year reign that the George Cross has been awarded to an organisation or group of people.
The Queen shared a personal hand-written message of admiration and appreciation for the NHS during its recent 73 birthday celebration, commemorating 70 years of "courage, compassion and dedication".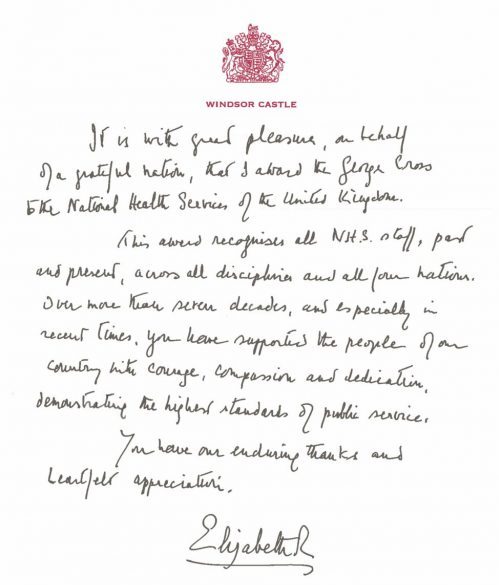 Throughout her reign, the Queen visited and opened new hospitals and healthcare units across the country, such as Queen Elizabeth University Hospital in Glasgow and Royal London's Queen Elizabeth Unit. Plus, The Queen joined the nation and clapped for NHS frontline workers from Windsor Castle. Her Majesty was a champion of key workers throughout the pandemic and beyond, celebrating decades of medical achievements and triumphs.
A Time for Change
The team at Health Service Discounts joins the nation in mourning the passing of Her Majesty the Queen. We express our deepest condolences to the Royal Family.
During this period, we will not only mourn the loss of a monarch, a leader, and a mother, but we will also celebrate the long life of a woman treasured by millions.
Rest in Peace, Her Majesty, Queen Elizabeth II.