The fundamental principle of the Health Service Discounts Lottery is to raise funds for Cavell Nurses' Trust.
Every time you spend £1 playing the Health Service Discounts Lottery, a BIG chunk of your pound goes towards helping nurses suffering hardship.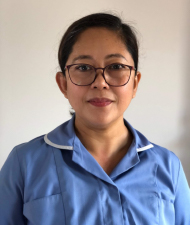 Meet Mariethel
Mariethel was working as a busy agency nurse until the Covid-19 pandemic. Suddenly, she wasn't needed and nursing shifts became unavailable. It lasted for months, her family had no money coming in.
Where do we get money to buy food? How will we eat?" remembers Mariethel "It's the most scary thing that has happened in my life.
Her agency put her in touch with Cavell Nurses' Trust and we were able to quickly provide funds to pay bills and buy food.
Getting this support has helped me 100%," says Mariethel "The impact on our lives has been huge.
Help others like Mariethel today!
Play the lottery for £1 per game entry.
Register your details with Health Service Discounts Lottery.
Select the number of chances you wish to enter in each draw.
Your payment is by Direct Debit and paid monthly.
Confirm your details and submit the Direct Debit mandate.
Health Service Charity Lottery will send you an email.
The draw will take place by 2pm each Friday.
If your number matches the selected winning number you will win the weekly jackpot.
The weekly jackpot is a percentage of the weekly stake fund and will be announced each week.
The results of each draw will be published on the Health Service Discounts Lottery website. Winners will be notified by telephone within one week of the draw.
Play Now
Need Help?