The fundamental principle of the Health Service Discounts Lottery is to raise funds for Cavell Nurses' Trust.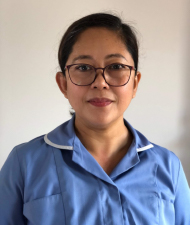 Meet Mariethel
Mariethel was working as a busy agency nurse until the Covid-19 pandemic. Suddenly, she wasn't needed and nursing shifts became unavailable. It lasted for months, her family had no money coming in.
"Where do we get money to buy food? How will we eat?" remembers Mariethel "It's the most scary thing that has happened in my life.
Her agency put her in touch with Cavell Nurses' Trust and we were able to quickly provide funds to pay bills and buy food.
"Getting this support has helped me 100%," says Mariethel "The impact on our lives has been huge."
Help others like Mariethel today!