The fundamental principle of the Health Service Discounts Lottery is to raise funds for Cavell Nurses' Trust.
Every time you spend £1 playing the Health Service Discounts Lottery, a BIG chunk of your pound goes towards helping nurses suffering hardship.
But that's not all, Cavell are able to DOUBLE YOUR GIFT to 60p using 'matched fund'. This was set up after a generous and kind donation from The Perseverance Trust who are as committed as us to help as many nurses, midwives and healthcare assistants suffering financial hardship as possible.
We are proud that together we can we donate to such a great cause.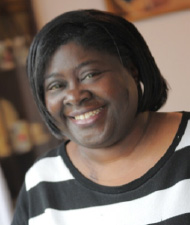 Shermin Stuart
Shermin, a community nurse from Birmingham, had to give up her beloved job working across the heart of the city when her condition became too severe. After 27 years of helping others, she was suddenly unable to find the strength at times, to look after her family.
Nursing was my life and the illness meant I became so isolated. That was the biggest blow for me. I also went from having a well-paid job to struggling financially and that affected me emotionally – I had always been a strong person, with everyone relying on me. It's so hard to ask for help when you are so used to giving help.
Fortunately, Shermin was aware of Cavell Nurses' Trust so contacted us for our help as a shortage of money meant the family was unable to replace two broken beds for their children plus pay essential bills. After supporting her with advice and support, a grant of £800 was provided and the Trust has also helped her secure a further £500 for a short break for the family to enjoy some much-needed time together, away from the stresses of everyday life.
Three times a week Shermin must go for dialysis to keep her alive and she is hopeful of getting a place on the transplant list in the foreseeable future.
I would like to thank Cavell for their help as I wasn't expecting it, but truly appreciate what the entire organisation as done. I couldn't believe there were people out there willing to help us, for a long time I felt alone and I now feel part of everything again. I feel more confident in myself and feel I have the strength to do something useful again with my life.
Play the lottery for £1 per game entry.
Register your details with Health Service Discounts Lottery.
Select the number of chances you wish to enter in each draw.
Your payment is by Direct Debit and paid monthly.
Confirm your details and submit the Direct Debit mandate.
Health Service Charity Lottery will send you an email.
The draw will take place by 2pm each Friday.
If your number matches the selected winning number you will win the weekly jackpot.
The weekly jackpot is a percentage of the weekly stake fund and will be announced each week.
The results of each draw will be published on the Health Service Discounts Lottery website. Winners will be notified by telephone within one week of the draw.
Play Now
Need Help?